2019
Jan-Apr - Making our way to the Solomon Islands via
Papua New Guinea, Bismark Archipelago, New Britain,
New Ireland, and Rabaul
Summer? Cruising the Solomons Islands and Vanuatu
Fall? Back to Indonesia?
Nov-Dec Fly Home?
2020
More Indonesia
Southeast Asia
Thailand
After 2020
South Africa or the Med?
(note: don't book your flights yet, this is WAY
too far in advance to be planning).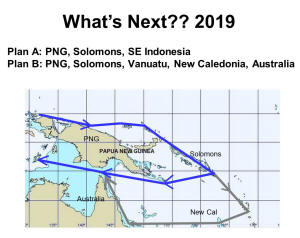 Not all who wander are lost...
- JRR Tolkien