Cruising History
Last Updated: April 27, 2021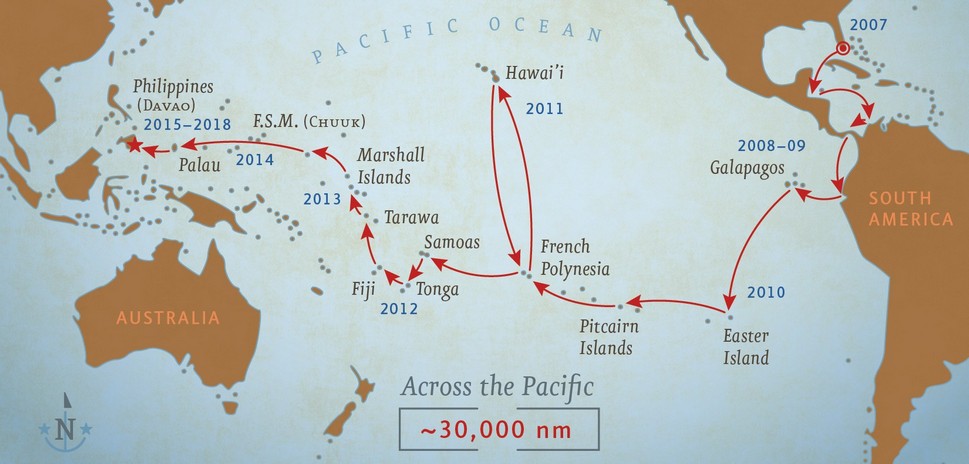 To see Dave & Sherry's cruising backgrounds on other boats and trips, see here.
For a map of where we've been recently, see our Current Position page. Mileage Summary
See our our future plans here: Cruising Plans
2019-Cruising from Philippines to Solomon Islands and Back
Jan 1-Jan 8 - Philippines to Raja Ampat, Indonesia
Jan 10 - Jan 17 - Enroute Raja Ampat to Biak
Jan 18-22 - Biak, reprovisioning and checking out of Indonesia
Jan 22-24 - Beaching Soggy Paws due to saildrive leak
Jan 24-28 - Enroute to Ninigos Islands, Papua New Guinea
Jan 28 - Feb 4 - Longan Island, Ninigos
Feb 5 - Ninigos Islands to Hermit Islands
Feb 6-12 - Hermit Islands
Feb 13-15 - Enroute to from Hermit Ilands to New Hanover, PNG
Feb 16-17 - Clem's Place, New Hanover
Feb 18-19 - Enroute from New Hanover to Kavieng, New Ireland, PNG
Feb 20-Mar 4 - Kavieng, Check-in, provisioning, touring, diving
Mar 5-6 - Albatross Channel, New Ireland to Duke of York Islands, PNG
Mar 7 - Duke of York Islands to Rabaul, New Britain, PNG
Mar 8 -13 - Rabaul
Mar 14 - Rabaul to to English Cove
Mar 16-19 Enroute from English Cove, PNG to Shortland Islands, Solomon Islands
Mar 20-25 Shortland Islands, Solomons
Mar 26-27 Stirling Island, Solomons
Mar 28-29 Stirling Island to Liapari, Vella Lavella, Solomons
Mar 30-Apr 1 Gizo, Solomon Islands (Check-in, reprovisioning)
Apr 2-12 Vonavona Lagoon and Noro
Apr 13-16 Munda, New Georgia, Solomons
Apr 17-18 Rendova Island
Apr 19-21 Tetepare Island
Apr 22-May 7 Marovo Lagoon
May 8 - Russell Islands
May 9-13 Honiara (reprovisioning, touring)
May 14-Jun 5 - Roderick Bay & Tulagi & daytrips to Honiara
Jun 6-9 - Russell Islands
Jun 10-12 - Enroute back to Munda
Jun 13 - Munda
Jun 14-23 - Liapari for Haulout
Jun 24-29 - Munda, diving
Jun 30-Jul 2 - Rendova
Jul 3-18 - Marovo Lagoon (Nicki & Suki visit)
Jul 19-21 - Rendova
Jul 22-23 - Enroute to Noro
Jul 24-26 - Noro (reprovisioning, refueling)
Jul 27-29 - Nusaveke (near Munda)
Jul 30 - Enroute to Gizo
Aug 1-2 - In Gizo, diving
Aug 3-4 - Liapari
Aug 5-6 - Sanbis (near Gizo) with Moustrap, diving
Aug 7-9 - Vanga Point, Kolombangara Island
Aug 10-13 - Liapari
Aug 14-16 - Diving in W Vella Lavella
Aug 17 - Gizo
Aug 18-19 - Noro (refuel & check out)
Aug 20 - Liapari
Aug 21-22 - Enroute to Stirling Islands
Aug 22-23 - Stirling Islands
Aug 24-29 - Enroute Stirling to New Ireland
Aug 30-Sep 1 - Hunkered down in Cape Waum, New Ireland
Sep 2-8 - Rabaul (Check in, refuel)
Sep 9-17 - Enroute from Rabaul to Kimbe Bay (day hopping)
Sep 18-24 - Kimbe Bay (provisioning, diving)
Sep 25-27 - Garove Island
Sep 28-30 - Enroute Garove to Manus Island
Oct 1 - Lombrum, Manus Island (refuel, provisions, checkout)
Oct 2-3 - Enroute Manus to Hermits
Oct 4 - Hermits to Ninigos
Oct 5-12 - Ninigos Islands
Oct 13-17 - Ninigos to Biak, Indonesia
Oct 18-19 - Biak, check-in, provisions, touring
Oct 20-21 - Enroute to Manokwari
Oct 22-24 - Inland touring, Bird of Paradise in Arafak Mountains
Oct 25-26 - Manokwari
Oct 27-30 - Enroute Manokwari to Sorong
Oct 31-Nov 1 - Sorong, fuel, provisions, check out
Nov 2-4 - Sorong to Wayag (dayhopping)
Nov 5-8 - Wayag (rudder problems)
Nov 9-16 - Enroute Wayag to Oceanview Marina, Philippines
Nov 17-Dec 1 - Oceanview Marina
Dec 2-4 - Enroute Davao, Philippines to Tampa, FL
Dec 4-31 - Florida

2018-Cruising the Central & SW Philippines
Blog Links: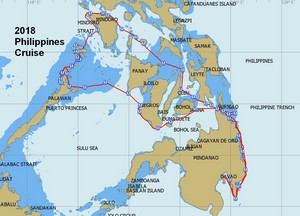 Jan 1-Mar 20 - Oceanview Marina, Samal Island, Mindanao, Philippines, doing maintenance and upgrades to the new cat
Jan 8-28 - Took a breather from work on the boat and did a 20 day sightseeing trip/visa run to Cambodia and Thailand
Mar 20-Apr 20 - Making our way north from Davao to Puerto Galera
Apr 20-Jun 10 - In Puerto Galera while we dove PG/Sabang, Anilao, and flew to Puerto Princesa to dive Tubbataha Reef on a liveaboard.
June-July - Cruising the Calmian Islands and northern Palawan
August - Making our way back to Samal
Sep ?? - Left the boat at Oceanview Marina, Samal Island, Mindanao and flew to England and Scotland for some sightseeing. Oct ?? - Annapolis Sailboat Show
Oct - Nov - Seeing friends and family in Georgia, Florida, Ohio, and California.
Dec 1-31 - Back on board getting Soggy Paws re-launched and ready for our 2019 adventures.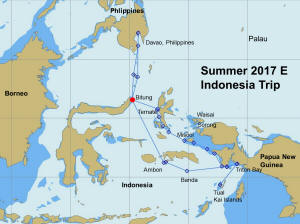 2017-Philippines to Eastern Indonesia and Back
Blog Links: Raja Ampat, Triton Bay, Diving, SE Asia Passages
Jan 1-Mar 19 - Oceanview Marina, Samal Island, Mindanao, Philippines, doing maintenance and upgrades to the new cat
Mar 20-27 - Making our way from Samal to Bitung, Indonesia
Mar 28-Apr 11 - Diving in Bitung & Manado with Bastianos
Apr 12-15 - Passage from Bitung to Ambon, Maluku, Indonesia
Apr 16-21 - Ambon (1 Dive, Provisioning, Sightseeing, Diesel)
Apr 22-23 - Passage to historic Banda Islands
Apr 24-May 1 - Diving and Sightseeing in Banda
May 2-May 4 - Passage to Triton Bay
May 5-19 - Diving and Exploring in Triton Bay, and up River #1
May 20-21 Passage to Tual for Visa Renewal, Provisioning
May 22-26 - Tual (Visa Renewal #1, Provisioning, Cash, Diesel, Internet)
May 27-28 - Back to Triton Bay for more diving and exploration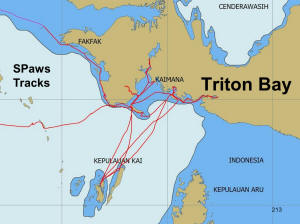 May 29-June 4 - Diving with Triton Bay Divers
June 5-7 - Exploring the Lakahia River System (River #2)
June 9-11 - Passage to Tual
June 12-19 - Tual with Ocelot (Visa Renewal #2, Provisioning, Sightseeing, Cash, Diesel, Internet)
June 20-21 - Passage back to N Triton Bay area
June 22-24 - Exploration up the Karufa River in N Triton Bay (River #3)
June 25-28 - Exploration up the Kamrau River System (River #4)
June 29-July 5 - Waterfall Bay and Coast-hopping to Misool
July 6-11 - Misool, diving and exploring
July 11-16 - Coast-hopping to Ternate/Tidore
July 16-18 - Tidore
July 18-19 - Passage to Bitung
July 19-22 - Checking out of Bitung
July 22-26 - Coast-hopping back to Samal
July 26-Sep 7 - Back in the Marina at Samal, working on the boat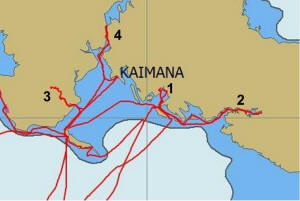 Sep 7-Sep 11 - Hong Kong (by air)
Sep 12-14 - Seoul, Korea stopover
Sep 14 - Seoul to Atlanta
Sep 14-19 - Brooks, GA (family)
Sep 20-21 - Drive to Annapolis
Sep 22-24 - SSCA Gam, Camp Letts, MD (Annapolis Area)
Sep 25-Oct 4 - Sightseeing Washington DC, Annapolis, and VA sights
Oct 5-7 - Annapolis Boat Show
Oct 8-15 - Driving to Florida
Oct 16-Nov 18 - In residence in Melbourne, Melbourne SSCA Gam
Nov 19-26 - Hanging out in Largo, FL with Cousin Bryan
Nov 27 - Driving to Atlanta
Nov 28-Dec 1 - Brooks, GA
Dec 2 - Flying to San Diego
Dec 3-7 - San Diego with Chris & Sandy
Dec 8-10 - Flying back to Philippines via Singapore
Dec 11-31 - Holiday Oceanview Marina, Samal Island

2016-Philippines - Sold CSY - Cruised Indonesia & Palau on New Cat, Back to Philippines
Blog Links: Raja Ampat, Palau, Diving, SE Asia Passages
Jan 1-15 - USA
Jan 15-Apr 23 - Fixing up the CSY at Holiday Oceanview, Samal Island, Mindanao, Philippines
Apr 23 - SOLD CSY 44
Mar 1 - May 4 - Fixing up the St. Francis 44 at HOV Marina, Samal Island, Mindanao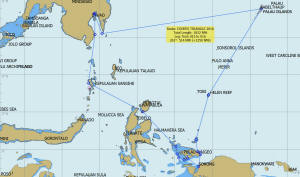 May 5 - Departure from Philippines for Indonesia with Rally
May 8-13 - Sangihe, Indonesia
May 14-15 - Enroute from Sangihe to Morotai, Indonesia
May 16-23 - Motorai, Indonesia
May 24-26 - Enroute from Morotai to Wayag, Raja Ampat, Indonesia
May 27-June 6 - Wayag, Raja Ampat, Indonesia
June 6-8 - Urani, Raja Ampat, Indonesia
June 8-9 - Minyafuni, Raja Ampat, Indonesia
June 9-11 - Yangelo, Raja Ampat, Indonesia
June 11 - Daytrip to Dive Penemu
June 12-14 - Friwin, Raja Ampat, Indonesia
June 14-17 - Kabui Bay (several locations), Raja Ampat, Indonesia
June 17-21 - Waisai Marina, Raja Ampat, Indonesia (Rats!)
June 21-26 - Friwin
June 26-July 1 - Sorong - Visa Renewal
July 1-2 - Batanta, Raja Ampat, Indonesia
July 2-4 - Friwin
July 4-6 - Kabui Bay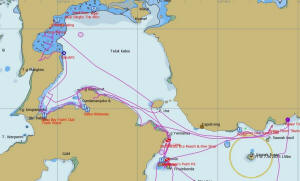 July 6-18 - Friwin, Diving with Biodiversity Eco Lodge
July 18-23 - Kabui Bay (several locations)
July 23-25 - N Coast of Batanta
July 25-27 - Agusta Island, Diving with Agusta Dive Resort
July 27-30 - Batanta, Birie Bay
July 30-31 - Batanta, East End
July 31-Aug 4 - Sorong, Picking Up Crew, Provisioning, Checking Out of Indo
Aug 5-6 - Batanta, Birie Bay, Beaching for Saildrive Zinc Replacement
Aug 6-8 - East and North Coast of Waigeo
Aug 8-10 - Ayu Islands, Indonesia, headed north
Aug 10-11 - Enroute to Helen Reef, Palau
Aug 11-14 - Helen Reef
Aug 14-16 - Enroute from Helen Reef to Koror, Palau
Aug 16-Nov 9 - Palau, Maintenance, Diving, Cruising
Nov 9-14 - Enroute from Palau to Samal Island, Mindanao, Philippines
Nov 14-Dec 5 - Maintenance Work on the Hard at Oceanview Marina, Samal Island
Dec 5-11 Visiting Friends in & Manila, Army-Navy Football Game
Dec 11-19 Diving in Coron
Dec 19-31 Maintenance Work on the Hard at Oceanview Marina

2015-Philippines - New Boat Delivery from Malaysia
Blog Links: Philippines, Malaysia, Borneo, CSY For Sale
Jan 1-10 - USA
Jan 10-20 - Space Available Travel to Philippines
Jan 21-Mar 1 - Aboard in Samal, working on the boat
Mar 1-May 8 - Touring New Zealand and a short stop in Singapore
May 9-18 - Aboard in Samal, working on the boat
May 19-25 - In Malaysia looking at a Catamaran
May 25-June 23 - Purchasing St. Francis 44 Catamaran in Malaysia
June 23 - July 1 - Prepping new Soggy Paws for sea
July 1-6 - Shakedown trip to Penang, W Coast of Malaysia
July 7-13 - Southeastward down the W Coast of Malaysia
July 13-16-Singapore (Puteri Marina, Johor, Malaysia)
July 17 - Crossing S coast of Singapore
July 18-23 - Passage to Labuan, W coast of Borneo
July 23-24 - Labuan
July 25-26 - Labuan to Kota Kinabalu (Borneo, Malaysia)
July 28-Aug 5 - Traveling Inland in Northern Borneo
Aug 8-9 - KK to Kudat (Borneo, Malaysia)
Aug 10-14 - Cruising N Coast of Borneo (quickly)
Aug 15-19 - Passage from E Borneo to Samal, Gulf of Davao, Philippines
Aug 19-Oct 17 - Working aboard 2 boats in the marina
Oct 17-Jan 8 - Back in USA
2014-Marshall Islands through Micronesia to Palau and Philippines
Blog Links: 2014 Passages Marshalls Micronesia Palau Philippines
2013 - Fiji to Tuvalu & Kiribati to Marshall Islands
Blog Links: 2013 Passages Fiji Tuvalu Kiribati Marshalls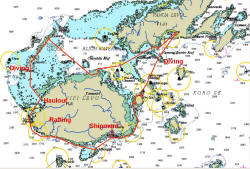 Jan 1-16 - Boat Projects in Savusavu, Fiji
Jan 17-19 - Diving in Namena, Fiji
Jan 19-23 - Exploring Levuka and Ovalau, Fiji
Jan 23-30 - Royal Suva Yacht Club, Suva, Fiji
Jan 31-Feb 3 - Cruising Suva to Vuda Point Marina, Fiji
Feb 4-17 - Haulout at Vuda Point Marina
Feb 18-21 - Cruising Yasawas
Feb 21-26 - Back to Savusavu via Voli voli/Nanu-i-ra
Feb 27-Mar 26 - Boat Projects in Savusavu (New Arch)
Mar 22-Apr 2 - Land Travel to Also Island
Apr 5-8 - Weekend trip to Namena
Apr 8-18 - Savusavu, preps for trip to Marshalls
Apr 19-25 - Savusavu to Funafuti, Tuvalu
Apr 25-27 - Funafuti, Tuvalu
Apr 28-May 4 - Funafuti to Tarawa, Kiribati
May 4-7 - Tarawa, Kiribati
May 7-10 - Tarawa to Majuro, Marshall Islands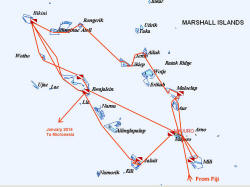 May 10-19 - Majuro, Marshall Islands
May 19-22 - Majuro to USAKA, Kwajalein
May 22-26 - Kwaj Base
May 26-27 - Kwajalein to Bikini Atoll, Marshall Islands
May 27-June 5 - Bikini Atoll
June 5-7 - Bikini to Kwajalein
June 7-12 - Kwaj Base
June 12-14 - Ebeye Island, Kwaj Atoll
June 14 - Ebeye Island to 6th Island, Kwaj Atoll
June 15-24 - Diving Airplane Wrecks at Roi Namur
June 25-26 - Passage to Wotho Atoll
June 26-27 - Wotho Atoll
June 27-28 - Passage to Bikini Atoll
June 28-July 18 - Diving the Wrecks at Bikini Atoll
July 18-19 - Passage to Rongerik Atoll
July 25-26 - Passage to Likeip Atoll
July 26-29 - Likiep Atoll
July 29-30 - Passage to Ailuk Atoll
July 30 - Aug 5 - Ailuk Atoll
Aug 5-6 - Passage to Maloelap Atoll
Aug 6-9 - Maloelap (first visit)
Aug 9-10 - Passage to Majuro
Aug 9-18 - Majuro (2nd visit)
Aug 18-19 - Passage to Mili Atoll
Aug 19-24 - Mili Atoll
Aug 24-25 - Passage to Majuro
Aug 25-30 - Majuro (3rd visit)
Aug 30-Sep 1 - Passage to Maloelap Atoll
Sep 1-8 - Maloelap (2nd visits)
Sep 8-9 - Passage to Majuro
Sep 9-18 - Majuro (4th and last visit)
Sep 18-19 - Passage to Jaluit Atoll
Sep 19-25 - Jaluit Atoll
Sep 25-26 - Passage to Kwajalein Atoll
Sep 26-Oct 8 - Kwajalein Atoll
Oct 8 - Dec 31 - In the U.S.A. for R&R
2012 - Tonga to Niue to Fiji
Blog Links: 2012 Passages Tonga Niue Fiji
Jan 1-14 May - Neiafu area of Tonga
15 May-18 May - Passage Neiafu to Ha'apai Group of Tonga
19 May-31 May - Ha'apai Group of Tonga
31 May-June 1 - Passage Ha'apai to Niue
June 1-June 10 - Niue
June 11-June 13 - Passage Niue to Neiafu, Tonga
June 14-17 - Hunga, Tonga
June 18-21 - Passage Tonga to Savusavu, Fiji
June 21-July 4 - Savusavu, Fiji
July 5 - Passage Savusavu to Dakuniba, Fiji
July 5-11 - Dakuniba, Fiji
July 12 - Dakuniba to Viani Bay, Fiji
July 13-16 - Viani Bay, Fiji
July 17 - Viani Bay to Somosomo and Matei, Fiji
July 18 - Matei to Budd Reef, Fiji
July 18-22 - Budd Reef, Fiji 1, 2
July 23-24 - Passage from Budd Reef to Vanua Balavu (Lau Group), Fiji
July 25-Aug 12 - Vanua Balavu, Lau Group, Fiji
August 13-14 - Passage from S Vanua Balavu to Fulaga
August 14 - Sep 11 - Fulaga, Lau Group, Fiji
Sep 11-12 - Fulaga to Fawn Harbor, Fiji
Sep 14-26 - Savusavu
Sep 26-Oct 1 - Enroute from Savusavu to USA via Suva
Oct 1 - Dec 20 - USA
2011 - Hawaii to French Polynesia to Tonga - 4,862 NM
2011 Passages
Jan 1-April 30 - Hawaii (Rainbow Bay Marina in Peal Harbor)
April 30-May 20 - Enroute Hawaii to Tuamotus in French Polynesia
May 20-27 - Manihi, Tuamotus, French Polynesia
May 28-June 11 - Anse Amyot, Toau, Tuamotus, French Polynesia
June 11-13 - Passage to Tahiti
June 13-25 - Tahiti Yacht Club, Tahiti, French Polynesia
June 25-July 10 - Moorea, Society Islands, French Polynesia
July 10-July 16 - Huahine, Society Islands, French Polynesia
July 16-July 30 - Raiatea & Tahaa, Society Islands, French Polynesia
July 30-Aug 9 - Bora Bora, Society Islands, French Polynesia
Aug 9-Overnight to Mopelia
Aug 10-15 - Mopelia, Society Islands, French Polynesia
Aug 15-Aug 20 - Enroute to Suwarrow in the Cook Islands
Aug 20-Sep 7 - Suwarrow, Cook Islands
Sep 7-10 - Enroute to Rose Atoll National Marine Sanctuary, American Samoa
Sep 10-12 - Rose Atoll, American Samoa
Sep 12-13 - Enroute to Pago Pago, American Samoa
Sep 13-22 - Pago Pago, American Samoa
Sep 22-23 - Overnight to Apia, Western Samoa
Sep 23-Oct 2 - Apia, (Western) Samoa
Oct 2-3 - Overnight to Niuatoputapu, Tonga
Oct 3-10 - Nuiatoputapu, Tonga (aka New Potatoes)
Oct 10-12 - Enroute to Neiafu, Tonga
Oct 12-30 - Neiafu area, Tonga
Oct 31-Jan 10 - USA

2010 - Ecuador to Hawaii via French Polynesia - 8,491 nautical miles
Jan 6 - Left Bahia de Caraquez, Ecuador for Galapagos
Jan 6-10 - Passage to San Cristobal, Galapagos
Jan 10-Mar 1 - Cruising the Galapagos
Mar 2-16 - Passage to Easter Island
Mar 16-23 - Easter Island
Mar 23-Apr 2 - Passage to Pitcairn Island
Apr 2-3 - Pitcairn Island
Apr 3-6 - Passage to Gambiers Islands, French Polynesia
Apr 6-May 4 - Gambier Islands, French Polynesia
May 5 - 10 - Passage to the Tuamotus, French Polynesia
May 8 - Arrived at Hao, decided to head for Tahanea
May 10-18 - Tahanea, Tuamotus
May 19-26 - Fakarava, Tuamotus
May 27-June 23 - Anse Amyot, Toau, Tuamotus
June 24-July 4 - Fakarava, Tuamotus
July 5-12 - Tahanea, Tuamotus * Total Eclipse of the Sun July 11 *
July 13-21 - Makemo, Tuamotus
July 22-Aug 6 - Rarioa, Tuamotus * Kon Tiki Landing Site July 25 *
Aug 6-9 - Passage to Marquesas Islands, French Polynesia
Aug 10-13 - Fatu Hiva, Marquesas
Aug 14-17 - Tahuata, Marquesas
Aug 18-Sep 15 - Nuku Hiva, Marquesas
Sep 16-Oct 1 - Passage to Hilo, Hawaii
Oct 2-Oct 12 - Hilo, Hawaii & Touring the Big Island
Oct 13-14 - Passage to Maui
Oct 15-17 - Lahaina, Maui
Oct 18 - Overnight at Haleolono Harbor, Molokai
Oct 19 - Arrival in Pearl Harbor, Honolulu
Oct 19-Nov 8 - Enjoying Honolulu
Nov 9-Dec 14 - Florida
Dec 15-31 - Boat Projects, Honolulu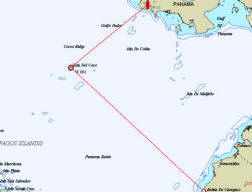 2009 - Costa Rica to Ecuador - 1,276 nautical miles
Jan - Hung out at Land n Sea in Golfito, Costa Rica
Jan - Side trip by bus to see friends in Boquete Panama
Jan 31-Feb 3 Passage to Cocos Island
Feb 3-8 - Hiking and Diving in Cocos Island
Feb 9-Feb 17 Passage to Bahia de Caraquez, Ecuador
Feb 17-June 9 On a mooring in Bahia de Caraquez
while we explored Chile and visited U.S.
June 9 - 11 Passage to Puerto Lucia, Ecuador
June 11 - Nov 23 - 'Bottom Job' at PLYC, Ecuador
July - Inland Travel Peru
August- Boat Maint/Haulout, Salinas (Ecuador)
Sep - Trip to US & Canal Boat Trip (France)
October - Florida
Nov - Inland Trip to Ecuador, N Peru
Nov 23-26 - Passage from Salinas to Bahia de Caraquez, Ecuador
Nov 26-Jan 7 - In Bahia, prepping for our Pacific adventure
2008 - Guatemala to Panama & Thru the Canal to Costa Rica - 2,983 nautical miles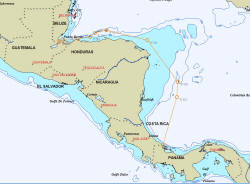 Jan 18 - Left the Rio Dulce, headed for Honduras
Jan 24 - Arrived Utila, Bay Islands of Honduras
Jan 29 - Arrived Roatan, Bay Islands of Honduras
Feb 13 - Arrived Guanaja, Bay Islands of Honduras
Feb 24-25 - Passage to Vivarillos & Hobbies/Cajones
Mar 2-3 Passage to Isla Providencia, Colombia
Mar 12 Passage to Cayos Este Sudeste (Colombia)
Mar 14-15 Passage to Bocas del Toro, Panama
Mar 16-30 Bocas del Toro
Apr 1-4 Chagras River, Panama
Apr 8-May 21 - San Blas
May 22-23 Islas Rosarios, Colombia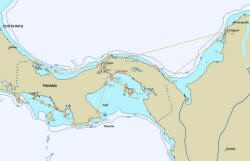 May 25-Aug 3 Cartagena, Colombia
Aug 3-Aug 5 Baru, Colombia
Aug 5-6 Passage to San Blas Panama
Aug 6-Sep 1 - San Blas
Sep 2-Sep 12 - Colon, Panama
Sep 12-13 - Panama Canal Transit
Sep 14-22 - Las Perlas Islands
Sep 22-Oct 15 - Balboa, Panama
Oct 16-Oct 30 - Enroute Panama to Costa Rica
Oct 30-Jan 30 2009 - Golfito, Costa Rica (with side trips to U.S. and elsewhere in Costa Rica)
2007 - Satellite Beach to Guatemala - 1,241 nautical miles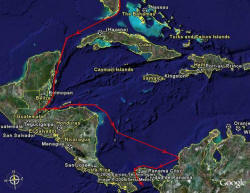 Feb 15 - Dave finally pops the real question
Mar 16 - Sherry retires
Mar 25 - Dave and Sherry Married
Mar 27 - Condo renovation started
April 1 - The first target departure date comes and goes
May 25 - Soggy Paws finally departs Satellite Beach
June 11 - Soggy Paws departs Key West
June 11-17 - Dry Tortugas
June 17 - 21 - Enroute to Belize
June 22 - 29 - Belize City (& inland touring)
June 29 - July 10 - Cruising/Diving Belize Atolls
July 10 - July 16 - Cruising southern Belize
July 16-January 18th, 2008 - In the Rio Dulce, Guatemala
Nov 1-December 6 - in the USA for a break
Dec 15 - Dec 30 - Daughter Nicki visits, we 'do' Tikal and Antigua again
2006
Feb 15 - Dave first emails Sherry (at Gwen's suggestion)
Mar 5 - Dave and Sherry's first face-to-face (we went sailing)
May 19 - First real date (we went sailing)
June 25 - Dave asks Sherry if she will go around the world with him
Sep 1 - Soggy Paws moves to Satellite Beach for final preps